Ohio Nursing Home Abuse Lawyers
Nursing Home Abuse Lawyers Ohio Fighting
for the Rights of Victims
In 2010, there were 40.2 million seniors over the age of 65, representing 13% of the population. By the year 2050, it is estimated that 20% of all Americans will be over the age of 65. As a society, we have a duty to provide compassionate and personalized care for aging seniors, yet nursing home abuse is on the rise.
Statistics from Nursing Home Abuse Centers reveal one in ten older adults experienced some form of abuse this last year alone. This doesn't take into account financial exploitation, which would further increase this statistic drastically.
Nursing Home Abuse in Ohio
In the state of Ohio, there are nearly 1,000 nursing homes and over 1.7 million caregivers providing much-needed support to seniors. From 2010 to 2015, Ohio's elderly population grew 13.7%, all while the budget for Adult Protective Services was slashed. This has created an environment of abuse in many nursing homes and institutions across the state.
According to Policy Matters Ohio, there are 15,000 reported cases of elder abuse in the state of Ohio each year. Sadly, this represents just a fraction of the actual occurrences of abuse, since it is estimated that 13 out of 14 instances of nursing home abuse in Ohio actually go unreported.
Evaluating Ohio Nursing Homes Abuse
At Anzellotti, Sperling, Pazol & Small, we know that deciding to place your loved one in a nursing home in Ohio is a difficult decision and one that can cause a tremendous amount of anxiety. How do you know you're choosing a nursing home that will properly care for your loved one?

To help you choose a nursing home that is best for you and your loved one, it is best to obtain detailed reports and information about local nursing homes by visiting Medicare's Nursing Home Compare Website. Here you can look at the caregiver to patient ratios to determine if your loved one will get the specialized and individualized attention they need. You can also read reviews from other families and view how the facilities performed on vital health and safety inspections.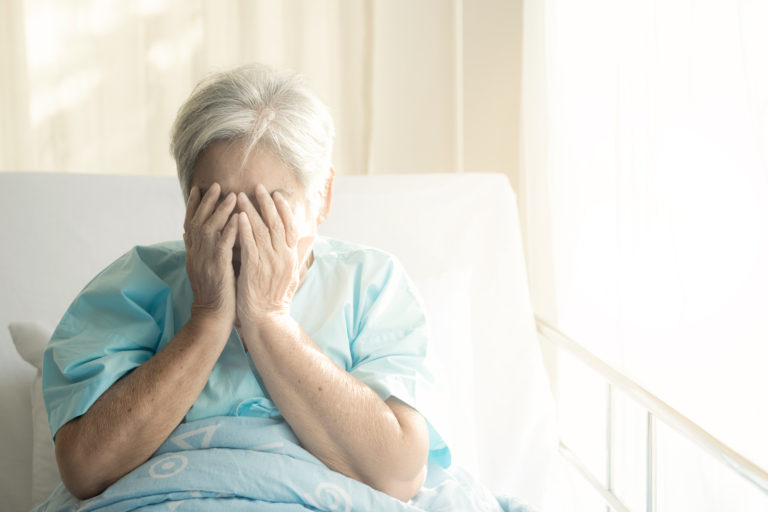 Contact Us Today for a Free Consultation
In addition, it is also important to personally visit the nursing homes you are considering so you can look for signs of abuse or neglect. When visiting a nursing home in your community, look for the following red flags:

Unsettling noises and signs of disorganization or chaos
Disrespectful staff or caregivers
Absent administrators or managers
Lack of choices for residents
Strict visiting hours
Lack of supervision
Unsanitary smells or conditions
Disheveled or unclean patients
Experience Matters in Nursing Home Abuse Cases
Nursing home abuse cases are complex and often difficult to prove. Sometimes it is just the elderly patient's word versus their caregiver's word. Without evidence, it can be difficult to clearly prove that abuse has occurred. That's why it is important to have an experience Ohio nursing home abuse attorney on your side from the start.
At Anzellotti, Sperling, Pazol & Small, our attorneys will investigate all aspects of the incident to gather the evidence needed to support your case. This includes interviewing other patients, caregivers, and eyewitnesses, reviewing video surveillance footage if applicable, and examining medical reports for inconsistencies.
We can help you protect your loved one from further abuse and hold the negligent institution or abusive caregiver responsible for their actions. Our law firm handles nursing home abuse cases in Cleveland, Akron, Columbus and throughout Ohio from our main office in Youngstown.
What to Know About Nursing Home Abuse and Neglect in Ohio
When you move your loved one into a nursing home, you expect that they will be provided the high quality care. Unfortunately, that is not the case as nursing home abuse and neglect continue to be an issue in Ohio. According to Policy Matters Ohio, there are more than 15,000 cases of nursing home abuse reported each year in Ohio. If you suspect a loved one has been neglected or abused by a nursing home, the first thing you should do is to contact a seasoned Nursing Home Abuse Attorney Youngstown Ohio.
An attorney will review the matter and tell you whether the neglect rises to a level where a lawsuit should be filed. At ASP&S, we are dedicated to helping victims of nursing home abuse and negligence throughout Ohio. Our Ohio Nursing Home Abuse Attorneys have handled many nursing home abuse cases before successfully. We can offer you the legal guidance you need. Here are some of the most important details to know about nursing home abuse and common types of nursing home abuse along with Nursing Home Neglect and common types of nursing home neglect. 
Anzellotti, Sperling, Pazol & Small serves Cleveland, Akron, and all of Ohio from our offices in Youngstown, OH.
Contact Our Ohio Nursing Home Abuse Attorneys Today
It can be devastating to learn that your loved one has been the victim of nursing home abuse. When this occurs, you may feel uncertain about where to turn for help. At Anzellotti, Sperling, Pazol & Small, our Ohio nursing home abuse lawyers can help you during this difficult time.
Call us today at (330) 792-6033 or fill out our confidential contact form for a free initial consultation and review of your case. With offices conveniently located in Youngstown, Warren, Columbus, and Cleveland, we are here when you need us. Call us today and we can help you protect your loved one from further abuse and hold their abusers accountable.